South Bay Musical Theatre is sad to announce the passing of Roberta Savage, who was one of the founding members of our theatre group in 1962. Back then it was the Saratoga Federated Drama Group, then went on to become Saratoga Drama Group, and most recently South Bay Musical Theatre. Roberta was active with the group for more than 50 years, doing every imaginable task to help ensure that our productions were ready for opening night. She served multiple terms on the Board of Directors, was a staff member on virtually every production, and produced her last show (Bye Bye Birdie) in 2006—her 54th year supporting the company!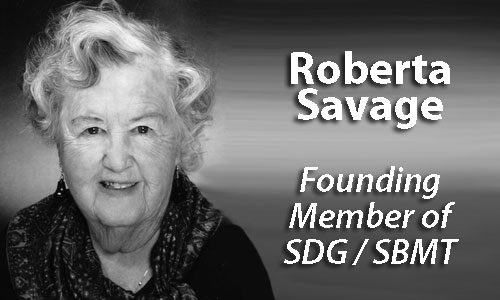 Roberta was a tireless volunteer and unafraid to tackle any task. "When I first started working on productions in the early 2000s and had a question about something," says SBMT Board Member Jay Steele, "more often than not the answer was 'Ask Roberta.' She had a hand in everything!" Roberta was also constantly networking to get more volunteers involved, bringing aboard dozens of contributors who became mainstays of the organization.
South Bay Musical Theatre is deeply grateful to Roberta Savage for the countless contributions she made to our organization spanning more than half a century. She embodied the true spirit of "community" in community theatre, and without her we would not be the successful group we are today. We will miss you, Roberta!