Welcome to the Sixties: A 60th Anniversary Celebration
We're celebrating South Bay Musical Theatre's 60th anniversary with a special evening that includes drinks, dinner, memories, and a one-night-only concert of classics!
Our "Welcome To The Sixties" celebration will start in the Saratoga Community Center with drinks, a silent auction, awards, and a delicious catered dinner. Then we'll walk over to the theater for a special concert of classics from the sixties. Current, past, and future SBMT stars will perform songs you know and love from shows such as Funny Girl, Bye Bye Birdie, Camelot, Sweet Charity, and Mame, along with 1960's pop hits "Blowin' in the Wind," "Son of a Preacher Man," a Beach Boys medley, and more.
Celebrate the 176 productions we've staged so far get a glimpse into SBMT's bright future, and enjoy the incomparable company of SBMT's fabulous family!
Space is limited! Purchase your tickets to reserve your spot. Tickets are $100 per person and include dinner, drinks, the concert, and post-concert dessert reception.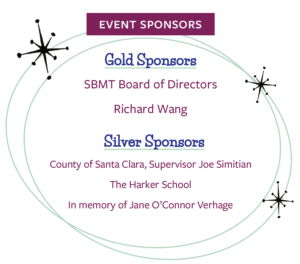 SPONSORSHIPS start at $2500 and include reserved dinner tables, choice concert seating, Champagne, and more. For information about sponsorship, call 408-266-4734 or email Kama.Belloni@SouthBayMT.com.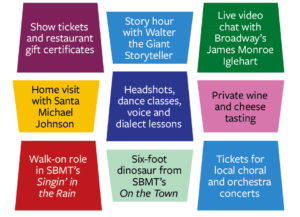 SPECIAL ONLINE AUCTION!
Support SBMT's future and win special experiences and prizes! Bid online and at the event – the auction opens April 15 at SouthBayMT.com/auction.
Show Dates & Times
• April 22, 2023. Dinner from 5:30 to 7:30 pm. Entertainment from 7:30 to 9 pm.
Ticket Prices
Adult

Senior
(65+)

Child
(12 & Under)

Student
(ID Required)

ONE NIGHT EVENT
$100
$100
$100
$100
CAST 
Emily Acosta
Chlöe Angst
Charles Anthony
Jillian Bader
Francesca Cipponeri
Gabby Crolla
Ray D'Ambrosio
Karen DeHart
Cami DeMarco
Derek DeMarco
Ethan Glasman
Shawna Gonzales
Matt Hall
Barbara Heninger
Michael Paul Hirsch
Carly Honfi
Syeda Huq
Jennifer Kohler
Laura Lang-Ree
Katie Lannin
Ann Lucena
Jennifer Maggio
Cynthia Mahoney
Elizabeth McClelland
Mary Melnick
Shawn Miller
David Mister
David Murphy
Molly Olivas
Raiña Parks
William Perez
Barbara Reynolds
Michael Rhone
Nicole Roca
Michael Saenz
Gloria Stanley
Alison Starr
Jay Steele
Braden Taylor
PRODUCTION STAFF 
| | |
| --- | --- |
| EVENT CHAIR: Braden Taylor | |
| DIRECTOR and CONCEPT: Walter M. Mayes | |
| MUSICAL DIRECTOR: Bob Sunshine | |
| EXECUTIVE ARTISTIC DIRECTOR: Sara K. Dean | |
| SOUND TEAM COORDINATOR: Dan Singletary | |
| FACILITIES MANAGER: Jeffrey Henson | |
| STAGE MANAGER: TBA | |