South Bay Musical Theatre is delighted to announce the seven members elected to our board: Nique Egan, Ed Hunter, Dave Leon, Raiña Parks, Sharon Peng, Dan Singletary, and Jay Steele. We had a particularly strong field of candidates this year, so our membership and board had to make difficult choices from a wealth of talent.
The seven new members join the five sitting board members: Kevin Brownstein, Dallas Carter, Michael Hirsch, Jennifer Maggio, and Steve Sammonds.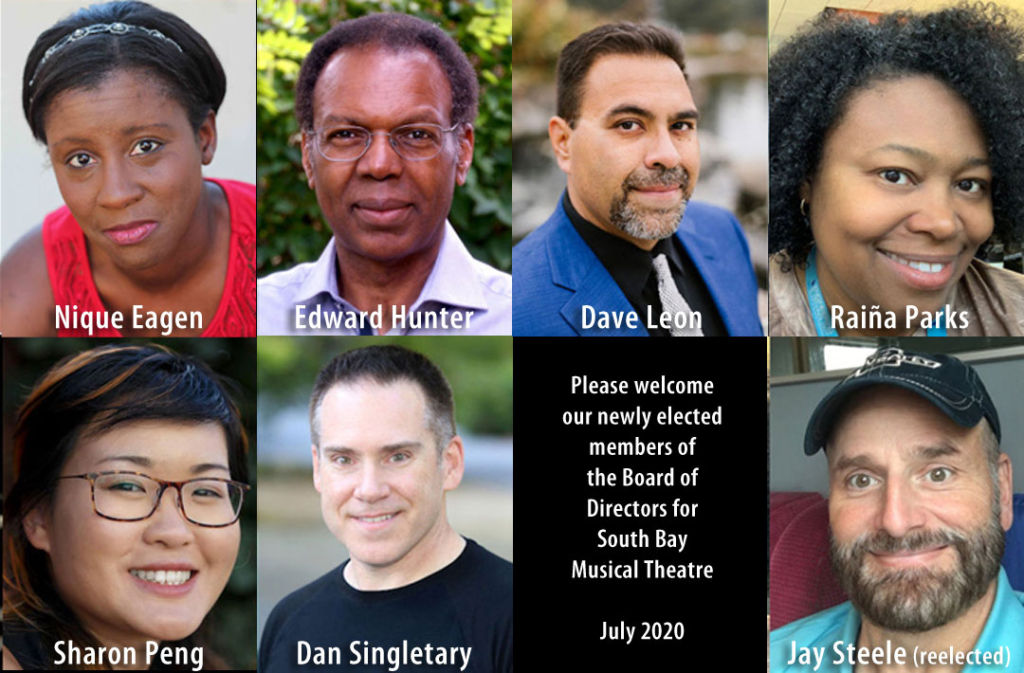 SBMT is deeply grateful for the service by our outgoing board members whose terms ended this year: Steve Allhoff, Barbara Heninger, Kimberly Kay, Jennifer Petersen, Denise Reynolds, and Jordan Selburn.
This is a challenging and dynamic environment for our company. We're thrilled to add such a range of new talents and skills to our existing leadership team. As we develop our eStudio and virtual presence, we're breaking new ground with programming and communication to engage patrons, members, and the broader community. Although we face many hurdles, I'm energized and optimistic about SBMT's future. The support from our members and donors has been extraordinary, and I thank each of you who has contributed.
Remember that you don't have to be a board member in order to be involved in SBMT's leadership. If you have ideas, energy, and interest in what we're working on (programming, eStudio, community outreach, fundraising, equity/diversity/inclusion, long-range planning, process improvement, etc.), please let any board member know.
I look forward to working with our new board members and all of you!
Sincerely,
Jay Steele, Chairperson
SBMT Board Chairperson