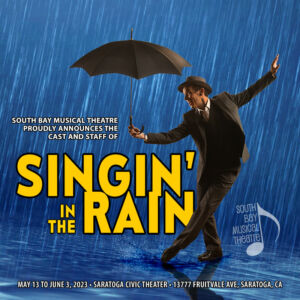 SBMT is pleased to announce the company of Singin' in the Rain, which runs May 13 through June 3 at the Saratoga Civic Theater.
PERFORMERS:
Don Lockwood: Nathaniel Rothrock*
Kathy Selden: Melissa Momboisse
Cosmo Brown: Michael Saenz
Lina Lamont: Melissa Jones
R.F. Simpson: Stephen Sammonds
Roscoe Dexter: Michael Paul Hirsch
Zelda: Emery Bacon
Dora Bailey: Sara K. Dean
Miss Dinsmore: Barbara Heninger
"Beautiful Girls" Tenor: Jackson Paddock
ENSEMBLE:
Tristan Aarons, Kyle Arrouzet, Emery Bacon, Peter Bullen, Sophia Davis, Sara K. Dean, Barbara Heninger, Anthony Howard-Erevia, Glenn Howard-Erevia, Rhona McFadyen, Kalyn McKenzie, Jackson Paddock, Sarah Rosenberg, Emily Scott, Heather Mae Steffen, Sarah Szeibel, Brittany Watts, and Jennifer Yuan.
* Appears courtesy of Actors' Equity Association.
STAFF:
Director & Choreographer: Lee Ann Payne
Musical Director: Joseph Kelly
Vocal Director: Amy Young
Stage Manager: Ben Hemmen
Production Manager: Christopher Morton
Assistant Choreographer: Sarah Rosenberg
Costume Designer: Courtney Kendall
Assistant Costume Designer: Michael Johnson
Hair & Makeup Designer: Gywneth Price Panos
Lighting Designer: Ed Hunter
Props Designer: Patricia Bilello
Sound Designer: Dan Singletary
Set & Projections Designer: Brett Carlson
Master Carpenter: Richard Cartwright
Assistant Master Carpenter: Jay Steele
Technical Director: Chris Beer
Marketing Director: Doug Hughes
Development & Patron Manager: Kama Belloni
Executive Artistic Director: Sara K. Dean
CREATORS:
Book by Betty Comden and Adolph Green
Music by Nacio Herb Brown
Lyrics by Arthur Freed
Based on the 1952 MGM film "Singin' In The Rain."