Singin' in the Rain
May 13 to June 3, 2023.
Book by Betty Comden and Adolph Green. Music by Nacio Herb Brown. Lyrics by Arthur Freed. Based on the 1952 MGM film "Singin' In The Rain". Watch this 90-second video trailer from the production:
The "Greatest Movie Musical of All Time" is faithfully and lovingly adapted by Broadway legends Comden and Green from their original award-winning screenplay in Singin' in the Rain.  The splash hit captures the waning days of the silent screen era as they give way to new-fangled talkies. The uplifting score includes a downpour of the Golden Era's most beloved comedy routines and songs, including "Good Morning," "Make 'em Laugh," "Moses Supposes," and the iconic title song, "Singin' in the Rain." It's a musical that will lift your heart and set your toes tapping – in any weather..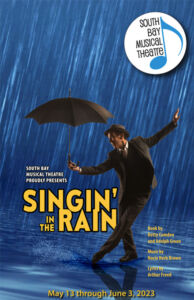 Read the program here.
PRESS COVERAGE FROM THE BRITISH PRODUCTION:
"If it doesn't send you dancing down the Charing Cross Road with an inane grin of pleasure on your face, then I can only guess that you are in the vile grip of clinical depression when nothing can lift the spirits."
– Telegraph
"No stage adaptation can hope to recreate everything that's great about that musical, which pokes fun at Hollywood's transition to the talkies. But this Drury Lane Theatre production comes pretty darned close."
– Chicago Reader
"It was a textbook example of the American Musical, lively and entertaining from start to finish."
– Centerstage
.
Show Dates & Times
• Saturday, May 13, 2023 at 8:00 pm
• Sunday, May 14, 2023 at 2:30 pm
• Friday, May 19, 2023 at 8:00 pm
• Saturday, May 20, 2023 at 8:00 pm
• Sunday, May 21, 2023 at 2:30 pm
• Friday, May 26, 2023 at 8:00 pm
• Saturday, May 27, 2023 at 8:00 pm
• Sunday, May 28, 2023 at 2:30 pm
• Thursday, June 1, 2023 at 8:00 pm
• Friday, June 2, 2023 at 8:00 pm
• Saturday, June 3, 2023 at 2:30 pm
Ticket Prices
Adult

Senior
(65+)

Child
(12 & Under)

Student
(ID Required)

Preview Night (8 pm)
$20
$20
$20
$20
Thursday Night (8 pm)
$25-45
$25-43
$25
$25
Fri. or Sat. Night (8 pm)
$30-50
$28-48
$25
$25
Sat. or Sun. Matinee (2:30 pm)
$35-55
$33-53
$25
$25
Discounts available for groups of 10 or more! Call 408-266-4734.
* All tickets subject to an additional $3 fee to cover the City of Saratoga surcharge.
CAST 
DON LOCKWOOD:
Nathaniel Rothrock*
*appears courtesy of Actors' Equity Association
KATHY SELDEN:
Melissa Momboisse
COSMO BROWN:
Michael Saenz
LINA LAMONT:
Melissa Jones
R.F. SIMPSON:
Stephen Sammonds
ROSCOE DEXTER:
Michael Paul Hirsch
ZELDA ZANDERS:
Emery Bacon
DORA BAILEY:
Sara K. Dean
MISS DINSMORE:
Barbara Heninger
"BEAUTIFUL GIRLS" TENOR:
Jackson Paddock
ENSEMBLE:
Tristan Aarons, Kyle Arrouzet, Emery Bacon,
Peter Bullen, Sophia Davis, Sara K. Dean,
Barbara Heninger, Anthony Howard-Erevia,
Glenn Howard-Erevia, Rhona McFadyen,
Kalyn McKenzie, Jackson Paddock, Sarah
Rosenberg, Emily Scott, Heather Mae Steffen,
Sarah Szeibel, Brittany Watts, and Jennifer Yuan.
PRODUCTION STAFF 
| | |
| --- | --- |
| DIRECTOR / CHOREOGRAPHER: | Lee Ann Payne |
| MUSICAL DIRECTOR: | Joseph Kelly |
| VOCAL DIRECTOR: | Amy Young |
| STAGE MANAGER: | Ben Hemmen |
| ASSISTANT CHOREOGRAPHER: | Sarah Rosenberg |
| COSTUME DESIGNER: | Courtney Kendall |
| HAIR & MAKEUP DESIGNER: | Gywneth Price Panos |
| LIGHTING DESIGNER: | Ed Hunter |
| PROPS DESIGNER: | Patricia Bilello |
| SOUND DESIGNER: | Dan Singletary |
| PROJECTIONS DESIGNERS: | Sara Dean and Chris Beer |
| PROJECTION & FILM EDITOR: | Chris Reber |
| CINEMATOGRAPHERS: | Sara Dean, Connor Dean, Chris Reber |
| MASTER CARPENTER | Richard Cartwright |
| ASSISTANT MASTER CARPENTER: | Jay Steele |
| SET CONSULTANT: | Brett Carlson |
| ASSISTANT STAGE MANAGERS: | Michael Cuddy, Phillip Jacke, Carla McCreight |
| FOLLOW SPOTS: | Don Masuda, Nita Rabe-Uyeno, Barbara Weissman, Terry Weissman |
| CAST DEPUTIES: | Rhona McFayden, Melissa Momboisse |
| TECHNICAL DIRECTOR | Chris Beer |
| MARKETING & SOCIAL MEDIA DIRECTOR: | Doug Hughes |
| DEVELOPMENT & PATRON MANAGER: | Kama Belloni |
| HOUSE MANAGER & BOX OFFICE: | Diane Hughes |
| EXECUTIVE ARTISTIC DIRECTOR: | Sara K. Dean |