The Spitfire Grill: an American musical
Jan. 28 – Feb. 18, 2023. Music and book by James Valcq. Lyrics and book by Fred Alley. Based on the award-winning 1996 film by Lee David Zlotoff. Winner of the Richard Rogers Production Award for new musicals. Watch the 3-minute trailer below for musical highlights or click here for a video synopsis.
Percy Talbott is a woman with a past looking for a fresh start. She finds herself in rural Gilead, Wisconsin, working at THE SPITFIRE GRILL, but learns that being the new kid in town can be its own form of prison. Through determination, grit, and remaining open to possibilities, Percy revitalizes the grill and, in turn, the community. Debuting Off-Broadway in 2001, The Spitfire Grill struck a powerful emotional chord with both audiences and critics. Two decades later, this heartfelt musical's message about healing the wounds of the past, finding joy in the present, and optimism for the future still resonates.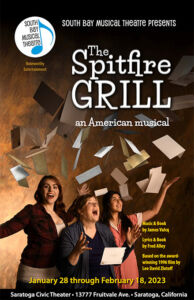 PRESS FROM ORIGINAL OFF-BROADWAY PRODUCTION:
"A soul-satisfying… work of theatrical resourcefulness. A compelling story that flows with grace and carries the rush of anticipation. The story moves, the characters have many dimensions and their transformations are plausible and moving. The musical is freeing. It is penetrated by honesty and it glows." – The New York Times
"Soulful… The amiable country-flavored tunes and lyrics are rendered with the kind of conviction and expertise that make them transcendent. What in normal times would be a joy is, in these troubled ones, sheer nourishment." – New York Magazine
"Soaring melodies!… Well before the show reaches its conclusion, many… city slickers in the audience may be ready to enter Percy's raffle." – The Wall Street Journal
"An abundance of warmth, spirit and goodwill!… Some of the most engaging and instantly infectious melodies I've heard in an original musical in some time." – USA Today
---
NEW Show Dates & Times 
• Saturday January 28, 2023 at 8:00 pm
• Sunday January 29, 2023 at 2:30 pm
• Friday February 3, 2023 at 8:00 pm
• Saturday February 4, 2023 at 8:00 pm
• Sunday February 5, 2023 at 2:30 pm
• Friday February 10, 2023 at 8:00 pm
• Saturday February 11, 2023 at 8:00 pm
• Sunday February 12, 2023 at 2:30 pm
• Thursday February 16, 2023 at 8:00 pm
• Friday February 17, 2023 at 8:00 pm
• Saturday February 18, 2023 at 2:30 pm
Ticket Prices
Adult

Senior
(65+)

Child
(12 & Under)

Student
(ID Required)

Preview Night (8 pm)
$20
$20
$20
$20
Thursday Night (8 pm)
$25-45
$25-43
$25
$25
Fri. or Sat. Night (8 pm)
$30-50
$28-48
$25
$25
Sat. or Sun. Matinee (2:30 pm)
$35-55
$33-53
$25
$25
Discounts available for groups of 10 or more! Call 408-266-4734.
* All tickets subject to an additional $3 fee to cover the City of Saratoga surcharge.
CAST 
PERCY TALBOTT: Kate Matheson
HANNAH FERGUSON: Juliet Green
SHELBY GODDARD: Laura Barragán
CALEB GODDARD: Zack Goller
EFFY KATSHAW: Mary Melnick
THE VISITOR: Tomás-Julian Eredia
JOE SUTTER: Charles Anthony
UNDERSTUDIES:

Carmela Catoc
Joseph Cloward
Hannah Cole
Allyson Dudzinski
Cordelia Larsen
Corinna Laskin
Jackson Paddock
Gloria Garcia Stanley
PRODUCTION STAFF 
| | |
| --- | --- |
| DIRECTOR and CHOREOGRAPHER: | Sara K. Dean |
| MUSICAL and VOCAL DIRECTOR: | Debra Lambert |
| CASTING CONSULTANT: | Lysander Abadia |
| AUDITIONS COORDINATOR: | Marcy Bates |
| STAGE MANAGER: | Carla McCreight |
| PRODUCTION MANAGER: | Christopher Morton |
| COSTUME DESIGNER: | Lisa Rozman |
| LIGHTING DESIGNER: | Ed Hunter |
| PROJECTIONS DESIGNER: | TBA |
| PROPS DESIGNERS and SET DECOR: | Michael Johnson and Jay Steele |
| SET DESIGNER and SET CARPENTER: | Richard Cartwright |
| SCENIC ARTIST: | Brett Carlson |
| HAIR & MAKEUP DESIGNER: | Melissa Jones |
| SOUND DESIGNER: | Dan Singletary and team |
| MARKETING DIRECTOR: | Doug Hughes |