by Sara K. Dean, Executive Artistic Director, South Bay Musical Theatre
While live performances are definitely back, as anyone involved with community theater knows, the process of making art is now very different than it was three years ago.
When we were allowed to reopen in spring 2021 after more than a year of virtual productions, it was thrilling. Finally, we could create art together—in person, and with audiences in the same room!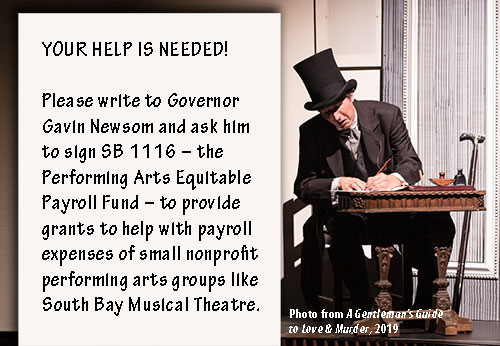 We've had to learn, and relearn, many new tasks to keep artists, crew, and audiences safe. Frequent testing. Mask mandates at rehearsals and for our audience. And lots of understudies, just in case. Still, despite our best efforts, the damage from COVID continues. Almost every community theater production in the Bay Area has had to cancel performances and even shut down entire productions because of COVID outbreaks in the company that made it impossible to rehearse or perform. It's heartbreaking—and expensive.
All of this has other impacts as well. Audience attendance is down, cutting our ticket revenue 30% from pre-pandemic times—while expenses have increased 40%. 
On top of the damage from COVID, California's Assembly Bill 5 (known as the "gig worker bill") went into effect in January 2020. Intended to protect ride-share drivers and other contractors, the law requires organizations such as ours to classify actors and musicians as employees. 
For SBMT, a typical production involves as many as 150 people—artistic staff, cast, musicians, backstage crew, front-of-house ushers, and more. While the increases are entirely deserved for our talented, passionate, and incredibly hardworking artists, AB5 has dramatically increased our annual expenses, and the administrative burden of managing the employment paperwork is enormous.
Despite the damage that both COVID and AB5 continue to cause, I am optimistic. When things shut down, our community rallied around our company, making one-time and monthly donations that covered our ongoing costs and allowed us to survive. Their continued support is keeping us afloat.
Still, the combination of COVID + AB5 has broken our financial model, and I worry that some community theaters are not going to survive beyond the next couple of years.
Fortunately, the State Assembly just passed SB 1116, the Performing Arts Equitable Payroll Fund, and the bill is now on Governor Gavin Newsom's desk. With his signature, this bill would provide grants to help with the payroll expenses of small nonprofit performing arts organizations. It's truly a lifeboat.
If you care about keeping the arts alive in our communities, please join me in asking Governor Newsom to sign SB 1116. This page has super-clear instructions and a sample message, which you can personalize and then submit online. It takes two minutes. Please do this now.
The future of our performing arts nonprofits is at stake.
Oh—you can do one more thing to help. Buy tickets to see our production of Stephen Sondheim's COMPANY, which runs at the Saratoga Civic Theater September 24 through October 15 (southbaymt.com)! Company is a tale of isolation and connection. In a world that is increasingly disconnected, the story is just as relevant today, 50 years after this groundbreaking show opened on Broadway. I would love to see you there—for this production and what we hope are many, many more to come.