SBMT is proud to announce the cast of its winter show, The Spitfire Grill. Congratulations to the following talented actors, with our deepest thanks to all who auditioned.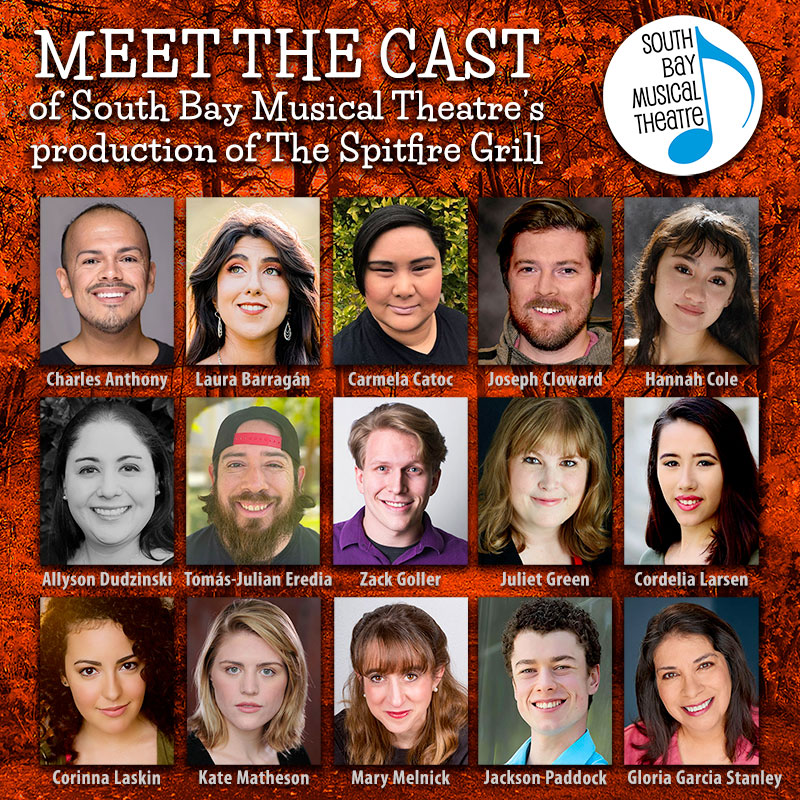 Cast:
Percy Talbott: Kate Matheson
Hannah Ferguson: Juliet Green
Shelby Goddard: Laura Barragán
Joe Sutter: Charles Anthony
Caleb Goddard: Zack Goller
Effy Katshaw: Mary Melnick
Eli: Tomás-Julian Eredia
Ensemble and understudies: Carmela Catoc, Joseph Cloward, Hannah Cole, Allyson Dudzinski, Cordelia Larsen, Corinna Laskin, Jackson Paddock, Gloria Garcia Stanley
Staff:
Director & Choreographer: Sara K. Dean
Musical and Vocal Director: Debra Lambert
Casting Consultant: Lysander Abadia
Auditions Coordinator: Marcy Bates
Stage Manager: Carla McCreight
Set Designer & Set Carpenter: Richard Cartwright
Lighting Designer: Ed Hunter
Costume Designer: Lisa Rozman
Sound Design: Dan Singletary & Team
Props Designers, Set Decor: Michael Johnson and Jay Steele
Tickets to the show are currently available as part of a season subscription that also includes our spring show,
Singin' in the Rain
. Individual tickets will go on sale in mid-November. For details, visit
SouthBayMT.com
or call 408-266-4734.