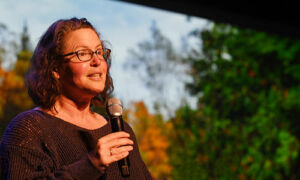 The past six years have brought many changes to South Bay Musical Theatre, and today we will announce one more.
Sara Dean has decided that this 60th season will be her final one with SBMT, effective June 4, following the closing of Singin' in the Rain.
Sara has led the group through thick and thin, from employment law changes, a pandemic and the ongoing aftermath. She joined us in early 2017 during the production of 1776, and in total has worked on 14 mainstage productions, six concerts, and over 100 eStudio programs. She will make her onstage debut as Dora Bailey in Singin' in the Rain and recently directed The Spitfire Grill.
Board Chairperson Michael Hirsch notes: "Sara has been instrumental in this company's success these last few years and I cannot thank her enough for her leadership, grit, and passionate spirit that showed us what we could be and pulled us through uncharted territory, setting us up for our next chapter."
At their March 8 meeting, the SBMT Board of Directors echoed Michael's sentiments about Sara's exceptional tenure and began discussing a succession plan that will ensure continuity, quality, and continued growth as they look ahead to the upcoming 2023-2024 season.