SBMT is pleased to announce the cast of A Little Night Music, the Tony® Award-winning masterpiece by the late Stephen Sondheim. The musical runs January 27 through February 17, 2024 at the Saratoga Civic Theater, directed by Walter M. Mayes. There was an enthusiastic and very talented turnout for auditions, and we thank all who took part.
Here is the cast of characters:
Désirée Armfeldt – Jennifer Cuevas
Fredrik Egerman – Michael Rhone
Anne Egerman – Julien Gussman
Henrik Egerman – Ryan Liu
Madame Armfeldt – Judith Miller
Count Carl-Magnus Malcolm – Nick Mandracchia
Countess Charlotte Malcolm – Dana Cordelia Morgan
Fredrika Armfeldt – Elle Levkovich
Petra- Alea Selburn
Frid – Joey McDaniel
Malla – Qian Zhang
Osa – Lucy Nino
The Quintet:
Mrs. Nordstrom – Mariel Temesi
Mrs. Anderssen – Kama Belloni
Mrs. Segstrom – Elyse Cook
Mr. Erlanson – David Mister
Mr. Lindquist – Paul Rosenfield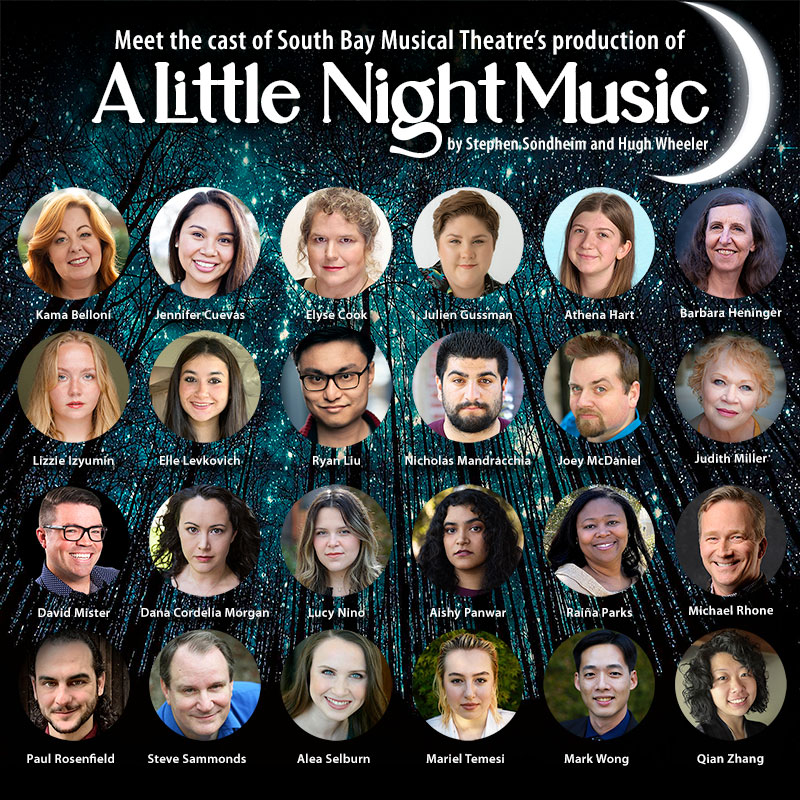 The production staff includes:
Director / Producer: Walter M. Mayes
Assistant Director: Nique Eagen
Musical Director: Ruiran Xun
Vocal Director: Anita Hsiung Carey
Choreographer: Francesca Cipponeri
Costume Designer: Kathleen O'Brien
Hair & Makeup Designer: TBD
Lighting Designer: Ed Hunter
Master Carpenter: Richard Cartwright
Props Designer / Asst. Master Carpenter: Jay Steele
Set Designer: Brett Carlson
Sound Designer / Technical Director: Chris Beer
Stage Manager: Casey Keys
Projections Designer: Don Nguyen
Production Manager: Kalyn McKenzie
Rehearsals for the show begin Monday, November 27, 2023. Follow SBMT on our blog and social media for updates.