South Bay Musical Theatre is now accepting resumes for staff positions for Mary Poppins, the final production of our 61st season. We will begin rehearsals in March and open for a four-week run on May 18, 2024.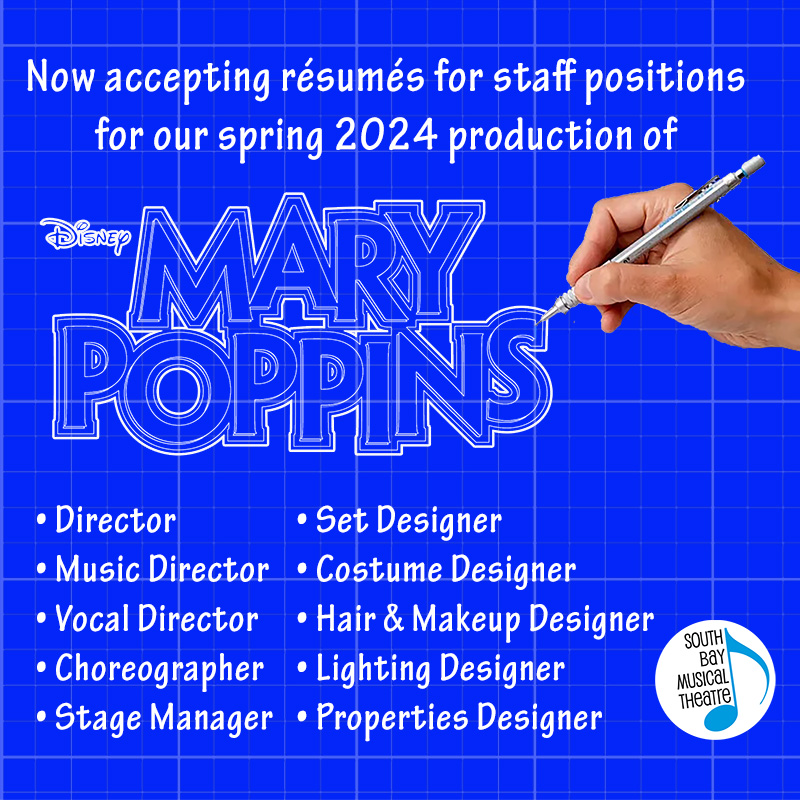 We are actively seeking resume submissions for the positions of…
Director
Music Director
Vocal Director
Choreographer
Stage Manager
Set Designer
Costume Designer
Hair & Makeup Designer
Lighting Designer
Properties Designer
All positions are paid, either as Independent Contractor (fees range from $800 – $2,200) or Employee (all hourly employees are paid $18 an hour), in accordance with California's AB5 law. (Compensation depends on the position and the required time commitment.) Interested parties should send resumes to
walter@southbaymt.com.
South Bay Musical Theatre is actively re-shaping our company to be reflective of the community it serves. We practice non-traditional and identity-conscious staffing in all our productions. We are seeking and highly encouraging submissions from all interested parties, regardless of race/ethnicity/caste, disability, body type, age, orientation, or gender/gender identity.