Timeless Tales of Artistic Triumph:
Comparing
Rent
with other Pulitzer Prize-winning Broadway musicals
In the 105 years since the first Pulitzer Prize for Drama was awarded in 1918, only 10 Broadway Musicals have won that honor. SBMT's upcoming production of Jonathan Larson's RENT will be the fifth Pulitzer-winning musical to be staged by the company. In this blog post, we will attempt to examine some of the reasons RENT was so honored, and compare it to other musicals in the same elite group.  
From the political satire Of Thee I Sing years ago, to last year's winner, A Strange Loop, two key things that these musicals have in common are their cultural impact and their storytelling excellence. Let's explore this list to see how Broadway has evolved over the course of the past century.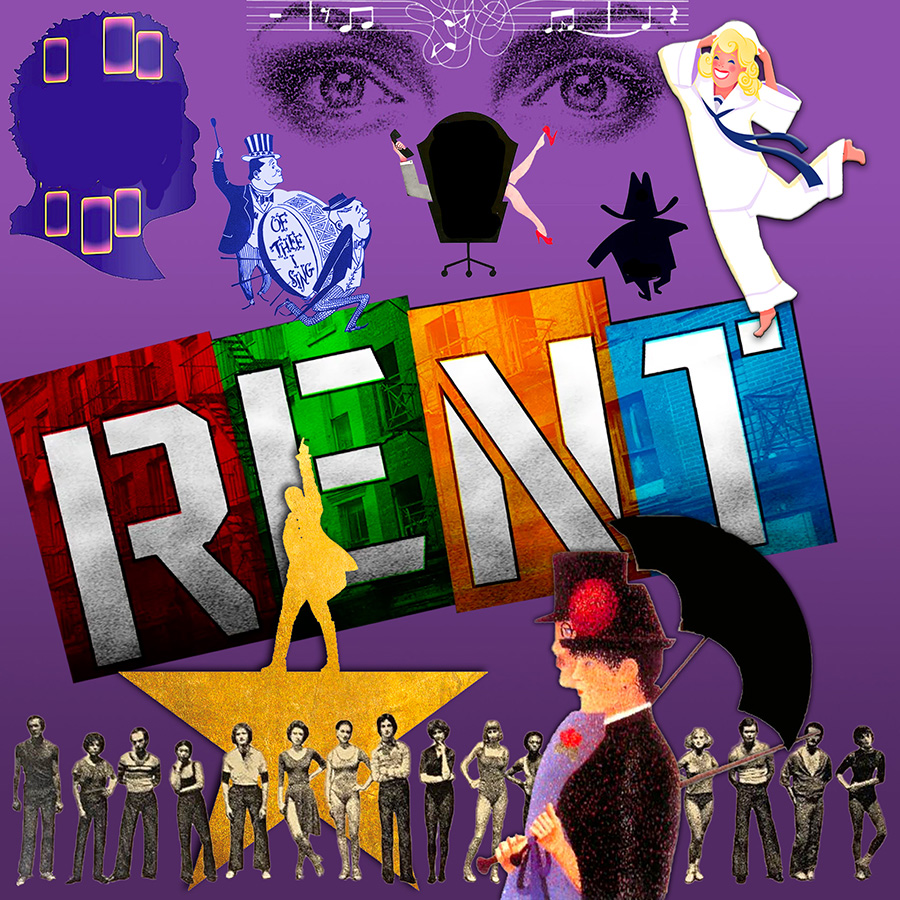 RENT: The Revolution of Raw Authenticity
RENT broke the mold when it premiered on Broadway in 1996, and SBMT is proud to bring this magnum opus to the Saratoga stage for the very first time. A modern adaptation of Puccini's La Bohème, the musical delves into the lives of struggling artists and musicians in New York's East Village during the AIDS epidemic of the late 1980s and early 1990s. Jonathan Larson's emotionally charged compositions and poignant lyrics created a musical landscape that resonated deeply with audiences, igniting a cultural revolution.
The musical's focus on marginalized communities, LGBTQ+ characters, and the devastating impact of the AIDS crisis on young creatives made it an unapologetically authentic reflection of its time. RENT challenged societal norms, opening up conversations about social justice, poverty, and the human need for connection. Its raw honesty and powerful themes set it apart from traditional Broadway fare, paving the way for future Pulitzer Prize-winning musicals to explore similarly daring and relevant narratives. 
Looking forward: Rent's legacy
Only three musicals have won Pulitzers since RENT took that honor 27 years ago. If we look closely, we can see how one groundbreaking theatrical achievement leads to the next. 
Next to Normal: Destigmatizing Mental Health
Next to Normal, with music by Tom Kitt and book and lyrics by Brian Yorkey, took home the Pulitzer Prize for Drama in 2010. It  delves fearlessly into the complexities of mental illness, family dynamics, and the pursuit of normalcy. The story, which is centered around a woman grappling with bipolar disorder, challenges the prevailing notion of what constitutes a "normal" family, breaking down stigmas around mental health. The emotional impact of Next to Normal echoes the resonance found in RENT, as it showcases the raw emotions and struggles of its characters. By addressing an often-ignored issue, the musical demonstrated that Broadway could be a platform for social change and advocacy, as it educated audiences on the realities of mental health and the importance of empathy and understanding 
Hamilton: A Creative Retelling of History
Lin-Manuel Miranda's Hamilton stormed onto Broadway in 2015 and became a sensation, securing the Pulitzer Prize for Drama in 2016. The musical cleverly reimagines the American Revolution and the early years of the United States, using racially diverse casting to portray the Founding Fathers. Through hip-hop, rap, and R&B, Miranda (also known for composing In The Heights ten years earlier) brought history to life, making it relevant to contemporary audiences. Like RENT, Hamilton tackled complex themes of ambition, legacy, and the human condition, while celebrating the power of art and storytelling. Its inventive approach breathed new life into the Broadway landscape, influencing subsequent Pulitzer Prize-winning musicals to experiment with unconventional styles and subject matters.
A Strange Loop: A Bold Self-Reflection

Michael R. Jackson's A Strange Loop triumphed with the Pulitzer Prize for Drama in 2020. This groundbreaking musical, with music, book, and lyrics by Jackson, presents a meta-theatrical exploration of a black queer writer's inner struggles, artistic aspirations, and societal perceptions. Through ingenious storytelling and a powerful score, A Strange Loop challenges conventions and fosters a deeper understanding of identity and self-acceptance. In this modern context, the musical finds common ground with RENT by amplifying the voices of marginalized communities and shedding light on the complexities of personal and artistic growth. 
Looking backward: Rent's inheritance
Starting from the same spot on our timeline and working backwards from RENT's 1996 premiere shows us how earlier Pulitzer Prize-winning productions paved the way for RENT politically and artistically.
Sunday in the Park with George: The Artist's Journey

Sunday in the Park with George, featuring music and lyrics by Stephen Sondheim and a book by James Lapine, was awarded the Pulitzer Prize in 1985. This masterpiece explores the life of Georges Seurat and his painting "A Sunday Afternoon on the Island of La Grande Jatte." The musical weaves together the artist's struggle for perfection and the impact of his art on future generations. Like RENT, Sunday in the Park with George delves into the psyche of the creative mind and the sacrifices made in the pursuit of artistic excellence. The two musicals resonate through their shared themes of dedication, legacy, and the enduring power of art to shape lives.
A Chorus Line: Dancers' Dreams
A Chorus Line, with music by Marvin Hamlisch, lyrics by Edward Kleban, and a book by James Kirkwood Jr. and Nicholas Dante, won its Pulitzer in 1976, and was mounted by SBMT in 1988. Perhaps best known for its collaborative approach to storytelling that originated from taped interviews with cast members, A Chorus Line presents a captivating glimpse into the lives and aspirations of Broadway dancers auditioning for a spot in the chorus of a big Broadway musical. Through powerful dance sequences and emotional narratives, it celebrates the dedication and sacrifice required to pursue an artistic career. While A Chorus Line differs from RENT thematically, it shares a common thread of showcasing the struggles of artists and performers in New York City in the 70s and 80s.  
How to Succeed in Business Without Really Trying: Climbing the Corporate Ladder

A corporate satire with music and lyrics by Frank Loesser and a book by Abe Burrows, Jack Weinstock, and Willie Gilbert, How to Succeed in Business Without Really Trying took home the Pulitzer Prize in 1962. This musical follows the ambitious J. Pierrepont Finch as he rises through the ranks of the World Wide Wicket Company. While markedly different in setting and tone, the musicals share common DNA through their characters' highly ambitious pursuits. How to Succeed showcases the sycophantic corporate culture that "kicks incompetents upstairs," while RENT portrays artistic aspirations and the quest for self-expression among people living in poverty.
Fiorello!: Political Potshots at Non-Fictional Characters

Fiorello! won its Pulitzer in 1960 and was produced by SBMT in 2015. The musical showcases the life and career of real-life politician Fiorello H. La Guardia, the former mayor of New York City for whom their first airport is named. Created by the same team that later gave us Fiddler on the Roof and She Loves Me—composer Jerry Bock, lyricist Sheldon Harnick, and authors Jerome Weidman and George Abbott—Fiorello! delves into the complexities of public service and the challenges faced by political leaders. Though distinct in its historical context, Fiorello! and RENT share common ground in their exploration of societal struggles and the pursuit of a better tomorrow. Both musicals inspire audiences to be agents of change and champions of their communities.
South Pacific: Love and Prejudice
South Pacific, with music by Richard Rodgers, lyrics by Oscar Hammerstein II, and a book by Oscar Hammerstein II and Joshua Logan, won the Pulitzer Prize in 1950, and was the first musical SBMT ever presented, back in 1964 (with reprises again in 1992 and 2005). Set against the backdrop of World War II, South Pacific addresses issues of racial prejudice and the complexities of love in a time of conflict. While some of its characters are stereotyped or problematic by today's standards, the show's timeless message of acceptance continues to resonate. Oscar Hammerstein's refusal to cut "You've Got To Be Carefully Taught" from South Pacific—despite pressure to do so—gave future musicals like RENT permission to tackle taboo topics.
Of Thee I Sing: The Political Satire
The other political comedy on this short list—Of Thee I Sing, with music by George Gershwin, lyrics by Ira Gershwin, and a book by George S. Kaufman and Morrie Ryskind—was the first musical to win the Pulitzer Prize in 1932, and was staged by SBMT in 1972. This satirical masterpiece explores politics, romance, and the American presidency in a witty and entertaining manner. Like RENT, the show was bravely critical of those in power, and Its daring commentary on a divided political culture (which even includes impeachment proceedings!) remains relevant even in the present day.  
Conclusion
All of the musicals on this list have transcended the traditional limitations of the stage in some way, becoming cultural touchstones and/or vehicles for social change. These productions exemplify the transformative power of art, reminding us of the profound impact that creative expression can have on individuals and communities alike. As Broadway continues to evolve, we eagerly await the emergence of new voices and narratives that will captivate our hearts, challenge our minds, and leave a lasting legacy just like RENT and its esteemed peers.
So… which musical on this list is the best? That's up for debate, but RENT certainly holds its own. While it clearly owes a debt of gratitude to its 20th century predecessors, one could argue it has given just as much to the current millennium's generation of playwrights, composers, and performers—regardless of which awards they may have won or lost. Through its authentic portrayal of the human experience, unflinching exploration of societal challenges, and pioneering approach to storytelling, RENT is (in the words of the show's marketing slogan), "the musical that changed Broadway forever."
The complete list
Here is the full list of Pulitzer Prize winning Broadway Musicals—in chronological order: 
 

Of Thee I Sing

(opened Dec. 26, 1931) – Music by George Gershwin, Lyrics by Ira Gershwin, Book by George S. Kaufman and Morrie Ryskind.

Produced by SBMT in 1972

.

South Pacific

(opened April 7, 1949) – Music by Richard Rodgers, Lyrics by Oscar Hammerstein II, Book by Oscar Hammerstein II and Joshua Logan.

Produced by SBMT in 1964, 1992, and 2005

.

Fiorello!

(opened Nov. 23, 1959) – Music by Jerry Bock, Lyrics by Sheldon Harnick, Book by Jerome Weidman and George Abbott.

Produced by SBMT in 2015

.

How to Succeed in Business Without Really Trying

(opened Oct. 14, 1961) – Music and Lyrics by Frank Loesser, Book by Abe Burrows, Jack Weinstock, and Willie Gilbert.

A Chorus Line

(opened Jul. 25, 1975) – Music by Marvin Hamlisch, Lyrics by Edward Kleban, Book by James Kirkwood Jr. and Nicholas Dante.

Produced by SBMT in 1988

.

Sunday in the Park with George

(opened May 2, 1984) – Music and Lyrics by Stephen Sondheim, Book by James Lapine.

Rent

(opened Jan. 25, 1996) – Music, Lyrics, and Book by Jonathan Larson.

Produced by SBMT in 2023

.

Next to Normal

(opened April 15, 2009) – Music by Tom Kitt, Book and Lyrics by Brian Yorkey.

Hamilton

(premiered off-Broadway on Feb. 17, 2015, before moving to Broadway for a second opening on Aug. 6) – Music, Lyrics, and Book by Lin-Manuel Miranda.

A Strange Loop

(opened April 26, 2022) – Music, Lyrics, and Book by Michael R. Jackson.
These works span a diverse range of themes and artistic styles, showcasing the depth and breadth of creativity within the Broadway community. Each one has made a significant contribution to the world of musical theatre and continues to inspire future generations of artists. 
SBMT is excited to tackle such an ambitious project while reimagining its story for today's audience. If you don't have your tickets yet, please visit the RENT web page or call our box office at 408-266-4734.