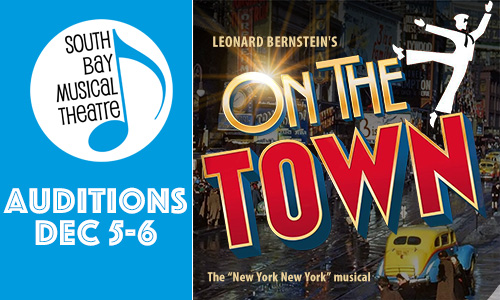 Music by Leonard Bernstein
Book and Lyrics by Betty Comden and Adolph Green
Based on an idea by Jerome Robbins
About the show
On The Town, the energetic wartime musical about three sailors on a 24-hour leave in New York City, features thrilling music by Leonard Bernstein with playful lyrics and book by Betty Comden and Adolph Green. The show's celebrated score includes a number of musical theatre standards, including "Come Up to My Place;" "I Can Cook, Too;" "Some Other Time;" and "New York, New York."
Important dates
First rehearsal: March 15, 2022
Opening Night: May 14, 2022
Closing Night: June 4, 2022
Audition info
All auditioners must bring proof of vaccination, see Covid Note below.
All auditioners should sign up for a 30-minute vocal appointment and attend the 7:30 – 9:00 pm dance call on the evening of their audition.
LINK TO AUDITION APPOINTMENTS: https://sbmt.ivolunteer.com/ottauditions
Sunday, December 5:
6 – 7:30 pm: Vocal appointments
7:30 – 9 pm:  Dance call
9 – 10 pm: Vocal appointments
Monday, December 6:
6-7:30 pm: Vocal Appointments
7:30-9 pm:  Dance Call
9-10 pm: Vocal Appointments
Callbacks by invitation: Saturday Dec 18, 10 am – 2 pm, Dec 19; 6 – 10 pm and Dec 20, 7 – 10 pm (see Covid Note below)
Auditions, Callbacks & Performances will be held at the Saratoga Civic Theatre
13777 Fruitvale Ave, Saratoga CA (Corner of Allendale & Fruitvale, across from West Valley College)
Instructions for audition:
VOCAL APPOINTMENTS: Please prepare: a 1-2 minute song, about 32-48 measures.  Please bring a headshot and resume, sheet music in the correct key. Accompanist provided.
DANCE CALL:  Please wear clothes you can move in, character or jazz shoes.  All should attend the Dance Call on the day of your Vocal Appointment.
At the Audition, please give a brief introduction of yourself: include your name, song, and introduce yourself! Tell us a bit about yourself and why On the Town excites you.
PLEASE NOTE: If you have a need for childcare during your audition time, our audition monitors will happily keep an eye on kids, or babies, if needed.
SBMT casting commitment
South Bay Musical Theatre is actively re-shaping our company to be reflective of the community it serves. We practice non-traditional and identity-conscious casting in all our productions. We are seeking and highly encouraging all actors to submit, regardless of race/ethnicity/caste, disability, body type, age, orientation, or gender/gender identity.  Gender diverse actors encouraged to apply. Please note, at this time we DO NOT have permission to alter the gender of any of the roles, although we are open to asking the licensing company.
On the Town was written for a diverse cast of performers. In fact, the original Broadway production from 1944 was notably diverse in its casting. For more information on the history of this production, please see On The Town History.
COVID notes
Auditions are planned for In-Person, bring vaccination card, photo ID and please remain masked during the audition process. All company members are required to be vaccinated, unless they fall under a legally-required exemption (ADA or religious).  We will require proof of vaccination at the auditions. Our detailed health and safety regulations are being developed in accordance with State and County regulations. See southbaymt.com/covidplans for Covid safety information.
Character breakdown
Non-union only. All positions are volunteer, with a per-diem for performances.
Ozzie Male. Early 20s – early 30s. Vocal range C4 – C#2/Db2. Strong mover. Lively, comical, ladies' man. Ozzie is one of the sailors on leave. He feels a strong sense of loyalty to Gabey. He is said to resemble the statue of a prehistoric man in the Natural History Museum. His love interest is Claire.
Chip Male. Early 20s – early 30s. Vocal range C4 – D#2/Eb2. Strong mover. Naive, eager. Chip is one of the sailors on leave. He is less interested in meeting a girl than he is in seeing the sights so he can tell his father all about them.
Gabey Male. Early 20s – early 30s. Vocal range C4 – D#2/Eb2. Strong dancer. Heroic, eager, dreamer. Gabey is one of the sailors on leave. He falls in love with a woman he sees on a "Miss Turnstiles" poster (Ivy) and pursues her during his shore leave.
Hildy Female. Early 20s – early 30s. Vocal range A4 – G5. Mover. Flirty, funny, sharp. Hildy is a cab driver in New York City. She shares an apartment with Lucy Schmeeler. She meets Chip while he is looking for a cab and tries to seduce him.
Claire Female. Early 20s – early 30s. Vocal range A#4/Bb4 – G5. Dancer. Intelligent, poised, passionate. Claire is an anthropologist at the Natural History Museum. She is engaged to Judge Pitkin. She meets Ozzie at the museum and falls in love with him.
Ivy  Female. Early 20s – early 30s. Vocal range C4 – G5. Strong dancer. Hard-working, artistic, romantic. Ivy is "Miss Turnstiles". She is innocent but is willing to fight to get ahead in her career. A romantic at heart. She is in love with Gabey. This role requires a very strong dancer as this is primarily a dancing role.
Madame Dilly  Female. Late 40s – early 60s. Vocal range C4 – D#5/Eb5. Non-dancing role. Alcoholic, bitter, crass. Madame Dilly is Ivy's singing teacher. She advises Ivy to stand up Gabey for their date and go to work instead because "sex and art don't mix".
Judge Pitkin  Male. 30s – 50s. Vocal range D2 – G3. Non-dancing role. Understanding, foolish, dignified. Judge Pitkin is engaged to Claire. He's a bit too understanding when Claire keeps running off with Ozzie. He eventually confronts the fact he is being played for a fool.
Lucy Schmeeler  Female. Early 20s – early 30s. Non-singing, non-dancing role. Annoying, resentful, bedraggled. Lucy is Hildy's roommate with a terrible cold. Hildy convinces her to leave the apartment when she brings Chip home.
Ensemble: Strong singers and dancers, and everyone in between. This ensemble has many featured roles, including: Workman, Announcer, Diana Dream, Dolores Dolores, Rajah Bimmy, and more. Non-dancers: please stay for the dance call 7:30pm – 9:00pm on the evening of your audition. A mover/dancer combination will be taught. Non-singers: please make a vocal appointment on the evening of your dance audition. If you would like help preparing for your vocal audition, please reach out to our Program Manager, Laura Millar, at auditions@southbaymt.com. We are ready to support you!
Artistic staff
Director & Co-Choreographer: Janie Scott
Co-Choreographer: Zendrex Llado
Musical & Vocal Director: Catherine Snider
Stage Manager: Philip Jacke
Lighting Designer: Michael G. Muñoz
Props Designer: Patricia Bilello
Set Designer:  Heather Kenyon
Producer: Sara Dean
Dramaturg: Laura Millar