On Friday, June 24 at the Saratoga Civic Theater, SBMT held its annual Membership Meeting and announced the musicals and special anniversary event that will comprise our historic 60th season. Subscription renewals won't start until later this summer, but we wanted to share the exciting news with you now.
Without further ado, here are the shows that will brighten our stage in 2022-2023.
The Spitfire Grill: Jan. 28 – Feb. 18, 2023
Music and book by James Valq
Lyrics and book by Fred Alley
Based on the award-winning 1996 film by Lee David Zlotoff
Winner of the Richard Rogers Production Award for new musicals
Directed and choreographed by Sara K. Dean
publicity photo by Dave Lepori
Percy Talbott is a woman with a past looking for a fresh start. She finds herself in rural Gilead, Wisconsin, working at THE SPITFIRE GRILL, but learns that being the new kid in town can be its own form of prison. Through determination, grit, and remaining open to possibilities, Percy revitalizes the grill and, in turn, the community. Debuting Off-Broadway in 2001, The Spitfire Grill struck a powerful emotional chord with both audiences and critics. Two decades later, this heartfelt musical's message of about healing the wounds of the past, finding joy in the present, and optimism for the future still resonates.  MORE INFO
Singin' In The Rain: May 13 – June 3, 2023
Book by Betty Comden and Adolph Green
Music by Nacio Herb Brown
Lyrics by Arthur Freed
Based on the 1952 MGM film "Singin' In The Rain"
Directed and choreographed by Lee Ann Payne
publicity photo by Dave Lepori
The "Greatest Movie Musical of All Time" is faithfully and lovingly adapted by Broadway legends Comden and Green from their original award-winning Singin' in the Rain screenplay. The splash hit captures the waning days of the silent screen era as they give way to new-fangled talkies. The uplifting score includes a downpour of the Golden Era's most beloved comedy routines and songs, including "Good Morning," "Make 'em Laugh," "Moses Supposes," and the iconic title song, "Singin' in the Rain." It's a musical that will lift your heart and set your toes tapping – in any weather. MORE INFO
Welcome To The Sixties: April 22, 2023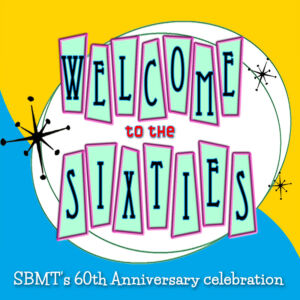 Don't miss our 60th anniversary event, "Welcome To The Sixties," featuring a concert of specially curated classics from (or set in) the swingin' sixties, along with a silent auction, delicious dinner, and a delightful dance down memory lane. Limited spots will be available for this special event that is separate from our season subscription package.
South Bay Musical Theatre proudly celebrates sixty spectacular seasons of Noteworthy Entertainment in Silicon Valley. Join us on the grounds of the Saratoga Civic Center as we sing a selection of songs and salute a soupçon of the 176 shows we've staged since our start in the sixties. Enjoy a buffet dinner, refreshments, and dancing followed by a Golden-Age concert in the theater. Bid on unique, theatre-themed auction items, reminisce about favorite past productions, and enjoy the incomparable company of your fellow fun-loving friends who make up SBMT's fabulous family!   MORE INFO
Sounds great! How do I subscribe?
Current subscribers: Watch for our annual season subscription mailing to hit your mailbox by early August, and be sure to renew promptly.
New subscribers: Email us with your name, address, phone number, and email info and we'll be sure to contact you as soon as subscription packages go on sale.
Whether you are a returning or new subscriber, we thank you for joining us on this most enjoyable journey and can't wait to see you in our audience again!
In the meantime… Season 59 concludes with Company: Sept. 24 – Oct. 15
Of course, you probably already knew about Company, and if you're a current season subscriber, you already have tickets. The final show of our current 2021-2022 season—which was postponed from this past January due to COVID—is Stephen Sondheim's masterpiece, COMPANY. This is the original 1970s version of the current Broadway production that just won the Tony® Award last week for Best Musical Revival.
Tony-winning music and lyrics by Stephen Sondheim
Tony-winning book by George Furth
Directed by Vinh G. Nguyen
publicity photo by Dave Lepori
From Broadway's most celebrated living composer, Company revolutionized the modern musical comedy with its darker tone—and won six Tony® Awards, including Best Musical, Best Score, Best Lyrics, and Best Book. On the night of his 35th birthday, Robert is forced to question his adamant retention of bachelorhood during a hilarious array of interactions with his friends. Company features many of Stephen Sondheim's best-known, award-winning songs, including "You Could Drive a Person Crazy," "The Ladies Who Lunch," "Side by Side by Side," and the iconic "Being Alive." Let's all drink to that.  MORE INFO & TICKETS